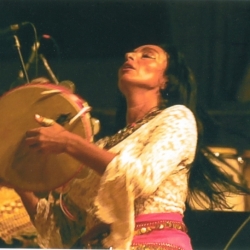 BEGINNING ITALIAN FRAME DRUMMING IN HONOR OF THE BLACK MADONNA
Led by internationally renowned singer, percussionist, teacher, author, and REMO artist Alessandra Belloni

In this course, we will trace the evolution of Italian Tambourine and Frame Drumming from its ancient Greek roots through the Italian Middle Ages and Renaissance, finally exploring its relevance today.
Together we will study and practice the basic "tamburello" techniques: holding the drum with emphasis on arm movement, the hand technique for triplets, and both the 6/8 and 4/4 rhythms. We will also address the variations of hand technique from the different regions of Southern Italy.
This course introduces participants to an ancient form of music and dance therapy used to cure the mythical bite of the tarantula. Originally practiced by women, this tradition dates back to the rites of the Mother Earth Goddess Cybele who is now worshiped as the Black Madonna.
As you come to understand the healing and stress-relieving effect of these rhythms and dances, you'll join a community of healers who use their bodies in movements that help release blockages of emotional and sensual energies, expelling feelings of depression and repression.
THE BEGINNING ITALIAN FRAME DRUM COURSE IS DIVIDED INTO 8 LESSONS: (pre-requisite for all future SERIES)
Participants will learn the Tambourine and frame drum technique
LESSONS 1 to 7 - TAMMORRIATA TRADITIONAL DRUMMING FOR THE BLACK MADONNA 
The Tammorriata- 4/4 rhythm, originally from the region of Campania, played with large frame drums as a ceremony in a circle as devotion to the Black Madonna- with African origins. 
The focus is to give the participants a practical tool to use in their practices, together with movement and exercises for grounding and opening the heart chakra and learning the sacred chants accompanied by the TAMMORRIATA RHYTHM.
You will learn foundational drumming patterns along with Alessandra and her two students Francesca Silvano and Peter De Geronimo. Each lesson gives you the opportunity to learn a new pattern while incorporating the patterns you've previously learned.
Interwoven with the instructional drumming videos are excerpts from Alessandra's best-selling books RHYTHM IS THE CURE and HEALING JOURNEY WITH THE BLACK MADONNA which will give you a rich context and history for your study of the Tammorriata.
Lesson 8 - Students will learn participatory chants to the Black Madonna and to the Sun (Jesce Sole) in the Lydian scale. The calming and lifting harmonies of this chant combined with the ocean drum guides students into complete relaxation both in the beginning and at the end. Students will learn the Sicilian traditional fisherman chant LEVA LEVA and JESCE SOLE.
BONUS CONTENT:
Lesson 9 - The Tammorriata is not only drumming and singing, but beautiful dancing. Learn about the rich tradition as Francesca Silvano and Peter De Geronimo demonstrate the sensual Tammorriata dance.
Lesson 10 - Students will follow Alessandra's pilgrimage to the Black Madonna in Montevergine and see how all they've learned so far is experienced in person.

To purchase my book, instruments or CDs, email me at [email protected] with your shipping address. You can pay either online through the EverButton link below.
Purchase Tamburello $165.00 (includes shipping USA only) 
Purchase Black Madonna Tambourine $135.00 (which Alessandra is playing in the images above)
Canada Shipping and additional $45
Beginning Drumming AND Virtual Pilgrimage Course Bundle
By the end of the Drumming course you will be able to sing and drum the healing songs of LEVA LEVA and JESCE SOLE. The Virtual Pilgrimage Course is a lovely companion course that will give you an in-depth, first hand account of Alessandra's research on the Black Madonnas of Campania, Basilicata, Calabria, Sicily, and the Amalfi Coast. This course will better contextualize your beginning exploration of the Tammorriata.

STUDENT TESTIMONIALS
I've been incredibly fortunate to have the pleasure of learning from Alessandra Belloni, one of the best! Alessandra is a master performer and a profoundly inspired artist. She's also a patient and skillful teacher who always knows how to challenge us. I find her performances and workshops deeply inspirational.
Cindy Carroll
I love online drum classes with Alessandra! Because I don't live in New York, this is an incredible opportunity to study with her and group classes make it more affordable for me. It is also fun to be part of a community to study and encourage each other. Each time Alessandra gives feedback to another participant, it is helpful for me to keep refining my technique and skill. Alessandra weaves storytelling, chanting, prayer, singing, and the technique of learning to play the frame drum into her classes. She is patient and encouraging and a very skilled instructor. The experience has been much more than I could have hoped for and is part of my own personal healing and ancestral re-connection journey. I am proud to have Alessandra as my teacher and mentor in these ancient healing traditions!
Ricky Bratz, Herbalist & Integrative Healing Arts Practitioner
Working with Alessandra has changed the ecosystem of my life, my body, and my ancestral bodies. I have long been involved in ancestral and cultural reclamation, connection and healing work, but had not tapped into the musical rituals, specifically the southern Italian drumming and dancing, that my culture has always known, always embodied, has always used as powerful medicine, offering, and veneration. It was the piece of my path that brought everything else together— there is so much stuck in the body (both the individual and collective body) and the movement, song, and drumming that Alessandra generously and magically guides us through is a powerful way to unravel, reveal and alchemize trauma. Alessandra is the real deal, raw, honest, funny, Italian as they come— and— a deeply rooted master healer and teacher of ancient rhythms. Through her work with drumming, rituals, and dance, she is bringing fast-spreading awareness to this necessary work in the world. I might add we have always needed this work for our ancestral healing, but especially in these times, I find it to be extra powerful and potent: we are all in desperate need of reconnection to the earth, The Mother. We are all being asked to find, practice, and share our cultural medicines with the world. I am so grateful to have been able to be a student of Alessandra's for the last 4 months. It was a prayer answered by my ancestors, no doubt. To work with Alessandra is a true gift from beyond. 
MaryBeth Bonfiglio 
"Alessandra est une enseignante brillante et accessible. Elle sait nous mettre en confiance, même si nous débutons dans cet apprentissage. Pas à pas, elle sait suivre chacun des participants avec tact. Avec générosité, elle partage également ses connaissances des rythmes traditionnels de l'Italie du Sud et ses enregistrements, ce qui nous permet d'avancer entre les cours. Les sessions en ligne sont agréables, fluides et créent de vrais complicités entre les participants. Que l'on soit débutant ou déjà percussionniste, ces cours vont vous enchanter".
"Alessandra is a brilliant and accessible teacher. She knows how to make us confident, even if we are beginners. Step by step, she follows each participant. With her legendary generosity she shares her wisdom from the south of Italy's rhythms. Her recordings help us to work besides the courses. The on-line sessions are fluid, nice to follow and even create a subtle complicity between participants. You are beginner or already percussionist: these courses will enchant you."
Danielle's Testimonial from Rhythm Is The Cure Workshop, Tuscany Italy 2013
Check your inbox to confirm your subscription