THE VOYAGE OF THE BLACK MADONNA
An immersive journey into the musical & healing traditions of Southern Italy & the Black Madonnas
An 8 episode -- 3 hour -- video & lecture series based on Alessandra Belloni's book HEALING JOURNEYS WITH THE BLACK MADONNA published by Inner Traditions | Bear & Company in 2019, with a foreword by Rev. Dr. Matthew Fox -- now a best-selling audiobook!
Written, narrated, produced, & directed by Alessandra Belloni.
copyright Alessandra Belloni 1991- 2019 - 2021


Immerse Yourself in the Healing
Musical Traditions of the Black Madonnas
of Southern Italy
Dance and drum your way through intoxicatingly beautiful and romantic Southern Italian hilltops and coastal towns where you will encounter seven enchanting and mysterious Black Madonnas.
Through special access to rituals, music, and dance never before seen outside of Italy, you will be immersed into a powerful world of ritual and magic. With award-winning musician and author Alessandra Belloni as your guide, you'll learn chants, drum rhythms, and dances from master folk practitioners dedicated to the preservation and celebration of the Black Madonnas' ancient devotional healing ritual music and dance.
Across eight episodes plus an introduction, this pilgrimage opens a portal into the sacred sites of Southern Italy -- once known as Magna Grecia-- and the worship of the Earth Goddess, the African Mother, the Black Madonna.
ONCE YOU ENROLL IN THIS UNIQUE ONLINE SERIES FOR HTE PROMOTIONAL PRICE OF $200 YOU WILL HAVE 6 MONTHS ACCESS TO:
The complete video series of 8 episodes totaling 3 hours on unique content:
Each episode includes the history, myths, and legends of each Black Madonna following the chapters of Alessandra's book 

Healing Journeys of the Black Madonna

.
In each episode, you will discover the traditional veneration of a different Black Madonna curated from 30 years Alessandra Belloni's personal archives of on-location footage throughout Southern Italy including interviews with local folk musicians. 
You will see authentic drumming and dance rituals and you will learn the lyrics to each sacred chant for the Black Madonna with Mp3 of the music. Lyrics are provided. 
You will receive Zoom links for the live interactive sessions included in the price.
At the end of the course :
You are encouraged to take notes as you review each video then ask questions during the live sessions with Alessandra Belloni and guests and to write your own personal transformational experience with each Black Madonna. 
Together, we will dance & drum our way down from Naples through Calabria to Sicily, visiting intoxicatingly beautiful and romantic Southern Italian hilltops and coastal towns all while we visit the enchanting and mysterious Black Madonnas:
Madonna della Neve (Naples), where we attend a spectacular feast recreating the discovery of the Madonna in the sea
Madonna di Positano (Amalfi Coast), where we visit the ancient Byzantine icon who was once worshipped as the goddess Aphrodite
Madonna di Montevergine (Campania), where we play the powerful tammorriata on the site of an ancient temple to the goddess Cybele
Madonna di Moiano (Campania), near Benevento, the seat of the cult of the ancient cult of Isis in magna Grecia, where we witness a ritual long banned by the Vatican
Madonna di Viggiano & Incoronata (Basilicata, Puglia), where we help crown the Queen of the Sun in the land of the tarantella
Madonna di Romania Tropea (Calabria), a powerful Byzantine icon with a long history of protecting Tropea from earthquakes  
Madonna dei Poveri (Calabria), where we take part in an ancient ritual with giant puppets, giant flags, and drumming against the plague  
Madonna del Tindari (Sicily), the most ancient Black Madonna we know, a beautiful icon inscribed with the phrase nigra sum sed formosa -- I am black and beautiful; coming end of July
These beautiful, haunting Madonnas are connected to the goddesses of the ancient world, including Demeter, Persephone, Cybele, Isis, and the African Mother. You'll be able to join the rituals that have been practiced through ancient times with song lyrics
Through images never seen before outside of Italy, you will be immersed into a powerful world of ritual and magic, offering rare access to the modern-day practitioners of the Black Madonna's devotional healing, ritual, music, and dance. Sharing chants, drum rhythms, and sacred songs, as well as her personal healing story, master folk artist Alessandra Belloni details how these ancient and powerful musical and trance practices can help heal the soul in ties of grief and turmoil.
Right now, The Voyage of the Black Madonna Virtual Pilgrimage to the Sacred Sites of the Black Madonna in Southern Italy is being offered at a special pre-sale price of $200; after September 15, 2021, the cost will increase to $275.
As a special bonus, people who enroll early will also receive an invitation to a special two-hour interactive presentation beginning SATURDAY JULY 31 at 6pm EST (3pm PST). The link will be available after you register! 
This special event will feature Alessandra's lecture and guide through the pilgrimage, sacred chants, and live music from the opera "The Voyage of the Black Madonna" with composer and guitarist John La Barbera. We will end with a Q&A!
Meet Your Teacher & Guide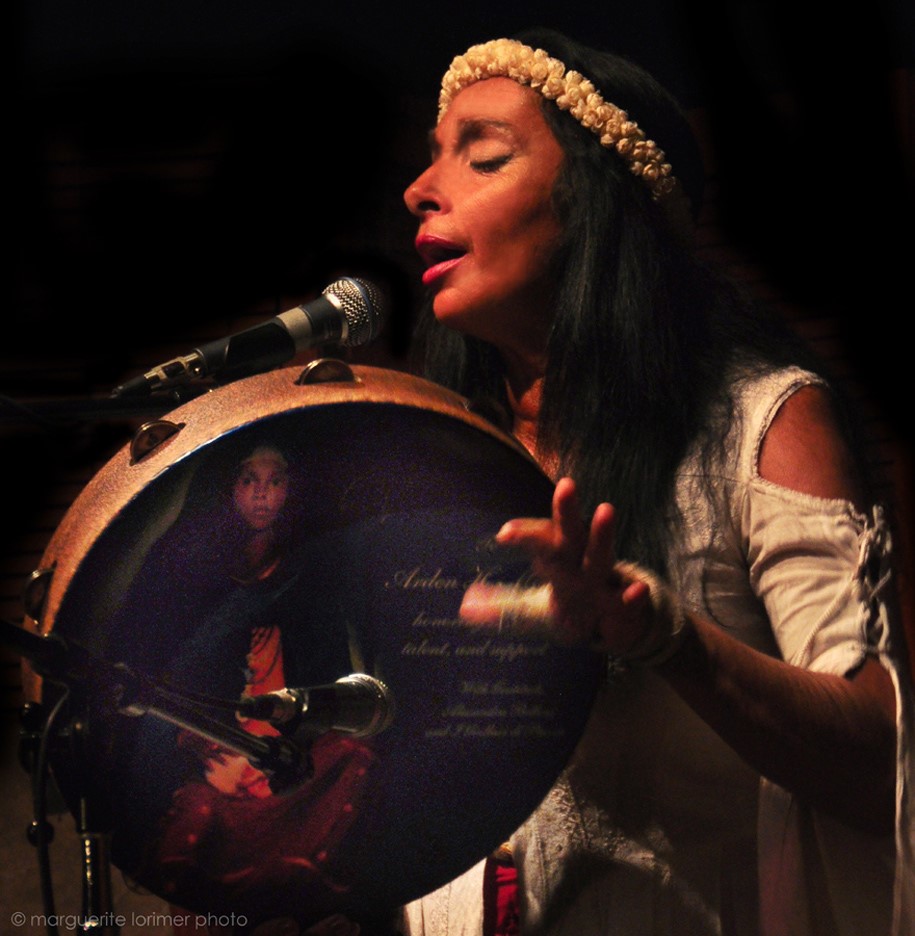 Italian born ALESSANDRA BELLONI is an internationally acclaimed award-winning singer, percussionist, dancer, teacher, author, director, actress with forty years of fieldwork experience studying Southern Italian folk music, dance, drumming, theater, and healing traditions. She is committed to preserving the strong and rich traditions of her culture, and her book Healing Journeys with the Black Madonna (Inner Traditions | Bear and Company, 2019) is a best seller on Amazon and Audible; she is also the author of Rhythm is the Cure (Mel Bay, 2007). She co-founded and serves as the Artistic Director and Lead Performer of I Giullari di Piazza – an Italian music, theatre, dance ensemble, and Artist in Residence at the Cathedral of St John the Divine in New York City. In 2016 and 2018, she won grant awards as a Master Folk Artist from the New York State Council of the Arts. She was recently invited by award-winning actress Marissa Tomei to serve as a special consultant for the Broadway production of Tennesse Williams' ROSE TATTOO, produced by the Roundabout Theater Company.
Ms. Belloni began her artistic career as teenager with legendary actress Anna Magnai and worked with famous director Federico Fellini in his film Casanova. Her recordings include "Healing Journeys with the Black Madonna" (2019), "La Cantata dei Pastori" (2015), "Tarantella Spider Dance" (2009), "Daughter of the Drum" (2007), "Tarantelle e Canti d'Amore" (2003), "Tarantata: The Dance of the Ancient Spider" (2000), "Earth, Sun, and Moon" (1995), "Divine Divas" (1997), "Global Celebrations" (1993), "Dea Fortuna," (1989), and "Sulillo Mio" (1985). Her 2003 album "Tarantelle & Canti D'amore" was considered one of the best percussion CDs of the year by DRUM Magazine and received many favorable reviews from major publications. Her 2000 album, "Tarantata: The Dance of Ancient Spider" received a wide critical acclaim and was named the best world percussion CD of the year by Drum Magazine, as well as among the top CDs of the year by both the New York Times and the Los Angeles Times.
Her folk operas and stage productions have been performed world-wide and include TARANTELLA SPIDER DANCE and EARTH, SUN, AND MOON at Lincoln Center, New York City; VOICES OF THE TARANTATE; STABAT MATER: DONNA DE PARADISIO and THE VOYAGE OF THE BLACK MADONNA at the Cathedral of St. John the Divine in New York City; LA CANTATA DEI PASTORI at the Smithsonian; LA LUPA at Yale University; and THE ADVENTURES OF DON GIOVANNI AND HIS SERVANT PULCINELLA at Carnegie Hall, New York City. She has performed at hundreds of musical festivals worldwide including the Patagonia Percussion Festival in Argentina; the Korea Percussion Festival; the Berklee Conservatory of Music Percussion Festival; the Seattle World Percussion Festival; Journe de la Percussion in Paris, France; Rhythm Sticks at Royal Festival Hall, London; Drumming at the Pyramids, Egypt; the New Orleans Jazz Festival; the Acoustica Festival in Sydney Australia; as well as performances at Oberlin University, the University of Buffalo, the Conservatory of Milan, the NYU Percussion Conservatory, CAL ARTS, the Conservatory of Venice, and the University of Hawaii. She has performed extensively with master drummer Glen Velez (her first tambourine student!) and was invited by Nana Vasconcellos and Gilberto Gil to perform in PERC PAN '98 in Bahia, Brazil. She has received acclaim and recognition for her achievements in theater and music from the Association of Italian American Educators, the Italian Oral History Institute, the Lincoln Center, and the Sons of Liberty, as well as being named Italian American Woman of the Year in 1996, a residency in the Women's Studies Program at SUNY Fredonia,
Ms. Belloni's work as a teacher and healer has been featured on CUNY TV, the Russian TV Travel Channel, The Dancing Planet, and a documentary film by Manex Ibar. Her television appearances include ABC TV Live in Chicago; a National Geographic documentary Spider Sex, where she discussed the tarantella; World Beat on CNN; Globo Brazilian TV; RAI Uno Mattina; and the PBS documentary La Festa, which explored her folk opera The Voyage of the Black Madonna. A recent feature in Smithsonian Folk Life Magazine reported on her work using the tarantella healing tradition with women around the world. For the last 19 years, she has been holding RHYTHM IS THE CURE: a special dance & drumming workshop in Tuscany with students that come from all over the world. She has spent many years also participating in authentic drumming festivals in remote areas of Southern Italy, leading rituals of purification in honor of the Black Madonna. She was recently knighted as a Dame of Honor by the Orthodox Order of the Knights of St. John.
Called a "force of nature" and a "Mediterranean volcano" by the New York and Los Angeles Times, she is recognized as one of the best percussionists in the world by DRUM! Magazine and is the designer of a line of Italian tambourines with REMO Drums -- the largest drum company in the world.
Find her online at www.alessandrabelloni.com | www.facebook.com/alessandrabelloni54 | www.youtube.com/alessandrabella7 | www.reverbnation.com/alessandrabelloni  
Student Testimonials
"I've been incredibly fortunate to have the pleasure of learning from Alessandra Belloni, one of the best! Alessandra is a master performer and a profoundly inspired artist. She's also a patient and skillful teacher who always knows how to challenge us. I find her performances and workshops deeply inspirational." -- Cindy Carroll
"I love online drum classes with Alessandra! Because I don't live in New York, this is an incredible opportunity to study with her and group classes make it more affordable for me. It is also fun to be part of a community to study and encourage each other. Each time Alessandra gives feedback to another participant, it is helpful for me to keep refining my technique and skill. Alessandra weaves storytelling, chanting, prayer, singing, and the technique of learning to play the frame drum into her classes. She is patient and encouraging and a very skilled instructor. The experience has been much more than I could have hoped for and is part of my own personal healing and ancestral re-connection journey. I am proud to have Alessandra as my teacher and mentor in these ancient healing traditions!" -- Ricky Bratz, Herbalist & Integrative Healing Arts Practitioner, Cazimi Healing
"Working with Alessandra has changed the ecosystem of my life, my body, and my ancestral bodies. I have long been involved in ancestral and cultural reclamation, connection and healing work, but had not tapped into the musical rituals, specifically the southern Italian drumming and dancing, that my culture has always known, always embodied, has always used as powerful medicine, offering and veneration. It was the piece of my path that brought everything else together— there is so much stuck in the body (both the individual and collective body) and the movement, song and drumming that Alessandra generously and magically guides us through is a powerful way to unravel, reveal and alchemize trauma. Alessandra is the real deal, raw, honest, funny, Italian as they come— and— a deeply rooted master healer and teacher of ancient rhythms. Through her work with drumming, rituals and dance, she is bringing fast-spreading awareness to this necessary work in the world. I might add we have always needed this work for our ancestral healing, but especially in these times, I find it to be extra powerful and potent: we are all in desperate need of reconnection to the earth, The Mother. We are all being asked to find, practice, and share our cultural medicines with the world. I am so grateful to have been able to be a student of Alessandra's for the last 4 months. It was a prayer answered by my ancestors, no doubt. To work with Alessandra is a true gift from beyond." --Mary Beth Bonfiglio, – writer, herbalist, & coach
"Alessandra est une enseignante brillante et accessible. Elle sait nous mettre en confiance, même si nous débutons dans cet apprentissage. Pas à pas, elle sait suivre chacun des participants avec tact. Avec générosité, elle partage également ses connaissances des rythmes traditionnels de l'Italie du Sud et ses enregistrements, ce qui nous permet d'avancer entre les cours. Les sessions en ligne sont agréables, fluides et créent de vrais complicités entre les participants. Que l'on soit débutant ou déjà percussionniste, ces cours vont vous enchanter".
"Alessandra is a brillant and accessible teacher. She knows how to make us confident, even if we are beginners. Step by step, she follows each participant. With her legendary generosity she shares her wisdom from the south of Italy's rhythms. Her recordings help us to work besides the courses. The on-line sessions are fluid, nice to follow and even create a subtle complicity between participants. You are a beginner or already a percussionist: these courses will enchant you." -- Marianne Grasselli Meier, Swiss writer, teacher, and healer
"For years I have wanted to attend a workshop (in person) with Alessandra, but geography and timing got in the way. 
Since the shelter in place began this past spring, I have had the fantastic experience of being a student of Alessandra. Thanks to zoom, I have been able to honor and celebrate my Calabrian ancestors and heritage by learning my ancestral drumming, dance and chanting. 
I look forward to each Thursday afternoon when I, along with 5 other women in my Southern Italian American diasporic community, have our wonderful healing, soul nourishing drumming lesson with Alessandra. 
The knowledge, experience and wisdom Alessandra possesses is unparalleled. I am honored to learn from her. 
As a folk herbalist (I teach this southern Italian tradition), and as an ancestral memory and healing connector, the work that Alessandra does is paramount to the healing process of ancestral trauma. I always recommend her to my students.
In the past 4 months that I have studied with her, I have felt a profound shift inside me, another layer of healing, release, memory, reclamation and understanding.
I am grateful to Alessandra for all she offers, I am grateful to the Black Madonna for all she embodies, I am grateful to my ancestors for guiding me on this healing journey with Alessandra." -- Kara Wood, herbalist and therapist
"I have been a fan and an occasional workshop student of Alessandra Belloni for decades. Being on the west coast, I never imagined that I would get a chance to study regularly with her. As I write these words, I have been taking weekly classes online with Alessandra for four months, and it is no exaggeration to say that it has been life-altering. Alessandra has a gift for group instruction that shines through in person and online, and our 90+ minutes together are packed with challenging, culturally-contextualized material with plenty to practice in between meetings. There is a well-balanced mix of technique and songs (and occasional singing), and a healthy dose of warmth, support and community among her and her students. I came to class already a percussionist, musician, dancer and teacher in other styles, but ripe and ready to do a deeper dive into traditions from my own Southern Italian and Sicilian roots. Working with Alessandra regularly has moved my personal, ancestral, musical, rhythmic and spiritual education forward in ways I couldn't have imagined, and opened doors and possibilities I can't wait to explore further." -- Monica Berini 
Check your inbox to confirm your subscription